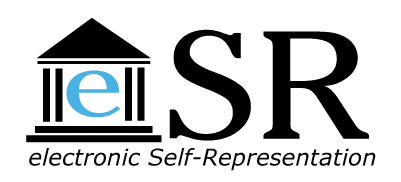 Bankruptcy has serious long-term financial and legal consequences and hiring a competent attorney is strongly recommended.  The Court is not permitted to give legal advice.  Individuals filing for bankruptcy without an attorney are responsible for knowing and following all legal requirements.
eSR CANNOT be used to file if:
You are filing an emergency bankruptcy case to obtain an immediate stay; or
You are filing for a non-individual (e.g., corporation, partnership, L.L.C.); or
You do not have a working email address; or
You are filing a Chapter 11 case (eSR can only be used to file Chapter 7 or Chapter 13); or
You are an attorney representing a client or you are a petition preparer; or
You need legal advice about the risks to your assets and the financial consequences of filing a bankruptcy case. See Caution: Click Here Before Proceeding without an Attorney
What is eSR?
eSR is an online tool to help individuals complete a Chapter 7 or Chapter 13 bankruptcy petition. It guides you step-by-step through the process, creates most of the forms needed for filing, performs all calculations, and allows you to submit electronically the petition package with the court.
Why use eSR?
There is no cost to use eSR.  Pay only the filing fee for the chapter selected. For filing fee amounts, see the court's fee schedule.
Your personal information is only accessible by you, using a unique login and password.
There is no software to download or purchase.
How to File Using eSR?
BEFORE OPENING THE PROGRAM:
READY TO BEGIN: PREPARING YOUR PETITION

You may get started using eSR by clicking here: eSR PROGRAM LINK
Create a user profile, provide an email address (this will also serve as your login ID), and create a password for eSR.
Answer ALL questions presented, which will cover topics such as property you own, your household income, and debts. When adding names of creditors MAKE SURE to include their addresses.
Click Submit when prompted. This will create your petition.
The Court will send you a confirmation email at the email address you provided to set up a profile.

YOU MUST PROVIDE THE FOLLOWING ITEMS TO COMPLETE THE SUBMISSION OF YOUR BANKRUPTCY FILING:

The above items can be uploaded using the Pro Se Electronic Document Upload Program, or you may mail or hand deliver the above items to the Court at the address below.

Mail or hand deliver to the Court the filing fee (Money Order or Certified Check ONLY, made payable to "Clerk, U.S. Bankruptcy Court"). Or if applicable upload the Application to Pay in Installments OR Application to Waive the Chapter 7 Filing Fee. Fee waiver not available for Chapter 13 cases.


Brooklyn Office

Central Islip Office

U.S. Bankruptcy Court, Eastern District of N.Y.
Conrad B. Duberstein U.S. Courthouse
271-C Cadman Plaza East -- Suite 1595
Brooklyn, NY 11201-1800
U.S. Bankruptcy Court, Eastern District of N.Y.
Alfonse M. D'Amato U.S. Courthouse
290 Federal Plaza
Central Islip, NY 11722
What happens AFTER I submit the additional forms?
The Court will send you a Notice of Bankruptcy Case Filing containing your case number and information about your meeting of creditors.
You MUST attend the meeting of creditors, as instructed on the Notice.
By submitting your petition through eSR, you have consented to receive certain notices from the court electronically through Debtor Electronic Bankruptcy Noticing (DeBN).
NOTES:
EVICTION: If Official Form 101A Initial Statement About an Eviction Judgment Against You is part of this bankruptcy petition package, you are required to serve a copy of this form on your landlord when you complete the instructions for filing for bankruptcy.
AUTOMATIC STAY: An automatic stay (injunction) is NOT in effect until a bankruptcy case number is issued by the bankruptcy court.
FILING HOURS: The bankruptcy case may be opened if the eSR is submitted and additional documents are sent to the court between 8:30 am and 4:00 pm on business days only. If the eSR is submitted  outside of this time frame, the case may be processed on the next business day.
DEFICIENT FILINGS: eSR only allows a one-time submission. Any schedules or statements not completed at the time the eSR package is submitted cannot be completed later using eSR. All subsequent pleadings and amendments to pleadings must be filed either using the Pro Se Electronic Document Upload Program, or in paper form via mail or dropped off at the court offices.
eSR Computer Requirements
A computer or tablet with internet connection
Adobe Reader (version 8 or higher)
Pop up blocker must be disabled
The latest version of Mozilla Firefox, Internet Explorer, Chrome, or Safari is recommended
Printer (recommended)
Note: eSR will NOT work from a smart phone.
eSR Help
For technical assistance regarding eSR, please contact the Help Desk at (347) 394-1700 (press 6). Please note, the clerk's office is prohibited from giving legal advice.